The neZEH pilot hotels in Greece, Arkadi Hotel (Chania, Crete), Ibiscos Garden Hotel (Rethymnon, Crete) and Sentido Vasia Resort & Spa (Sisi, Lasithi, Crete), excelled in the Tourism Awards 2016 receiving the Silver Award in the category Sustainability/Facilities Management, subcategory "Initiatives for environmental protection - Public awareness - Monitoring of environmental indicators".

These hotels have set as their strategic priority to reduce their environmental footprint and are implementing a large scale renovation to reach nearly zero energy performance under the technical support of the Renewable and Sustainable Energy Systems Laboratory of the Technical University of Crete, the neZEH project coordinator.

The representatives of the Greek neZEH hotels and of the Technical University of Crete, attended the award ceremony held on April 6th 2016, in the Athens Concert Hall in order to receive their award. The event, organised by Hotel & Restaurant publication under the auspice of the Ministry of Economy, Infrastructure, Shipping and Tourism and the Greek National Tourism Organization, was attended by more than 650 executives and stakeholders of Greek tourism, while more than 1.000 people watched it on live streaming.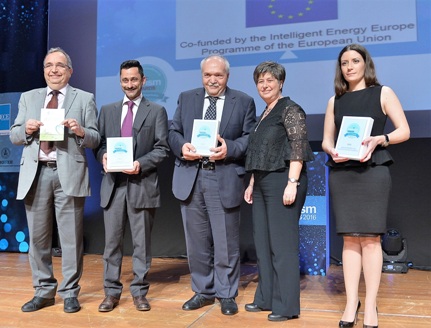 Arkadi Hotel, Ibiscos Garden Hotel and Sentido Vasia Resort & Spa are lighthouse examples of the first generation of nearly Zero Energy Hotels in Greece and in Europe. Their award, on such an important occasion for the Greek tourism, gives wide visibility to their efforts for sustainable and competitive services, inspiring more hoteliers to implement integrated energy strategies. A "second wave" of energy renovations in hotels – considering the open calls for funding in 2014-2020 NSRF Programming Period - not only can enhance national efforts to achieve the 2020 energy targets, but also can create new jobs and improve the tourism product of Greece: increase sustainability and competitiveness, provide improved comfort for guests and meet their expectations for environmentally friendly accommodations.